Restoration Is In The Family
As second-generation chimney professionals, we know a little something about inspecting, restoring, and maintaining chimneys. As a full-service chimney company that specializes in all things chimney- and venting-related, we're proud to offer our customers in Central Maryland a host of chimney, masonry and fireplace services. We work hard to keep the chimneys and fireplaces of our customers clean, safe, efficient, and free of damage — top to bottom.
INSPECTIONS
You can't restore or clean a chimney if you don't know what shape it's in. Our CSIA-certified technicians will pour over every inch of your chimney so we can see the whole picture.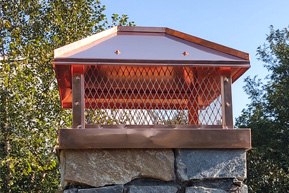 RESTORATION
We don't repair your chimney; we restore it. Repairing is a bandage on one problem while restoring is bringing the chimney back to a place of efficiency and safety.
INSTALLATION
We don't just handle the chimney but we can help you find the right type of heating appliance that suits your needs and provide the safe and expert installation.
Fireplace Makeovers
Fireplace Makeovers
Whether you have an open wall, an old inefficient masonry fireplace or need an additional heat source, we can makeover your fireplace or install a new fire feature for you to warm up around and make memories with loved ones.
Leaky Chimney?
Leaky Chimney?
Protect your chimney and the wood or vinyl sided chase with a metal chase covering designed to fit over your leaky chase surround.
Relining Chimney
Relining Chimney
General wear and tear, age, and chimney leaks can cause damage within your chimney liner which can mean serious problems when it comes to safety and performance of your fireplace.
Let's Get Started
At Trinity Chimney, all home improvement projects start with a conversation about what you need, how we can help you, and what our the next steps – no matter the size or complexity. Whether its a chimney inspection, restoration project, fireplace installation, masonry or any of our other services, working with Trinity Chimney is as easy as 1-2-3…
Step 1: We Talk
Whether you call us or fill out our form, we want to talk to you about your home improvement needs. Once we have the details, we will identify the scope of the project and work with you on a proposed solution.
Step 2: We Inspect
Everything starts with an inspection. No matter the project, we need to know the "lay of the land" and get an idea about what's going on, what needs to be taken care of first, and what has to happen next.
Step 3: We Work
Once you've accepted our proposal, we get to work. Whether outside or inside, our professional staff maintain a safe work area focused on getting the work done. Hear what other homeowners are saying about us.