We Will Restore Your Smoke Chamber The Fast & Effective Way.
Have you noticed a lot of smoke pouring into your home when you have a fire going in the fireplace? That's certainly not normal and it's likely caused by an issue with your smoke chamber.
The smoke chamber is the area above the damper that guides the smoke up into the chimney flue. The problem is, it doesn't always move smoke up and out quickly — especially if it's damaged or poorly designed. The shape of the smoke chamber itself, the surface, and the condition can all cause problems and increase the likelihood of having a fire in your home.
Has an inspection revealed any of these problems with your smoke chamber:
cracks, gaps, or voids?
made of brick with holes?
built with a step pattern?
jagged edges or a rough surface?
not insulated to code?
built improperly?
Then call Trinity Chimney Service and let us restore it so you can enjoy a safer, better-performing fireplace system. Every last crack, gap, void, and hole can allow heat to transfer to nearby walls and framing. And every last rough patch and design issue can slow the passage of smoke and cause back flow and carbon monoxide exposure. Eliminating these dangers is easy with the right team and the right products.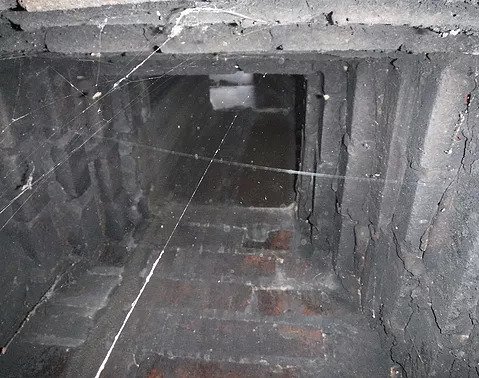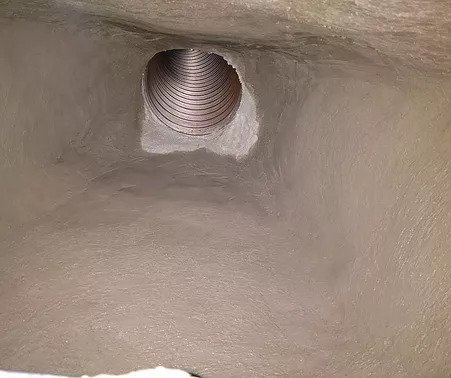 Here at Trinity Chimney Service, we use a product called Chamber-Tech 2000, which is the industry's most trusted smoke chamber parging and restoration product. It's lightweight, easy to apply, and highly insulating, and can be used to totally reshape and seal the smoke chamber.
With Chamber-Tech 2000, you can put to rest your worries about these problems:
heat transfer
carbon monoxide poisoning
smoke back flow
excessive creosote buildup
Once the repairs are made, the surface of the smoke chamber will be smooth and smoke-tight, so smoke and byproducts can quickly move up into the flue. Not only does this ensure a safer, better-performing fireplace system, but it also discourages the buildup of flammable creosote and other nasty deposits.
Let's Get Started
To schedule your inspection or smoke chamber restoration service, call 443-602-4306 or click the link below.